FREQUENTLY ASKED QUESTIONS
WHAT ARE THE BAGS MADE FROM
Our net bags are made from 100% natural cotton, and they are 100% biodegradable. Hunt and Gather Grocer net bags have specially designed the net bags to ensure durability and sustainability so that you can use them for years to come.
Our PVC bags are made from 100% recycled plastic, and 15% natural cotton.
DIGITAL PRINTING
We digital print our PVC bags not just because it produces amazing vibrancy with non-toxic inks, but it saves water and energy too. Digital printing allows for precision, which means we can cut our fabric and use the exact amount of ink needed for each bag. This leaves us with very little wastage overall and works as the most ecological printing method for our recycled fabric.
Your clear PVC bag can hold a maximum of 5 kilograms.
The statement crystal clear statement tote is designed to be used as a elegant statement bag. Please don't thrash your PVC bag and handle it with care.
HOW IS THE ORDER PACKAGED FOR SHIPPING
Each order handled with care and the environment in mind. Our beautiful, luxurious and earth-friendly packaging made from 100% natural materials. We care about the overall customer experience, so we have thoughtfully packaged your order with a luxury design to the overall customer experience all while keeping the planet in mind.
We send Australian orders in a paper mail box. For orders shipping overseas, we use 100% recycled (+ recyclable) plastic mail bags by Eco Enclose. The paper mail bags can be reused, composted or recycled by popping it in your recycling bin. The recycled plastic mail bags can also be reused and recycled. If your local council doesn't accept plastic bags in your recycling bin yet, most major supermarkets now has plastic recycling bins available.

WHAT IS SLOW FASHION
In 2018 slow fashion has never been so chic; We give a deliberate choice to buy better-quality items less often. The products in our store are environmentally and ethically conscious rather than trend-drive. Each created with passion and soul The Hunt and Gather Grocer label is made up of beautiful, wearable and timeless pieces, designed to be worn and loved for a lifetime.
Slow Fashion is not your typical seasonal fashion trend; it is a movement. We are a sustainable label changing fashion as you know it.
Hunt & Gather Grocer Net Bags can hold up to 20 kilograms. The net bag is more practical for supermarket shopping!
The Crystal Clear tote is suitable to carry a maximum load of 5 kilograms. The Crystal Clear tote it is designed to be a elegant statement tote bag, we recommend using it to carrying smaller items, wallet, phone and key etc.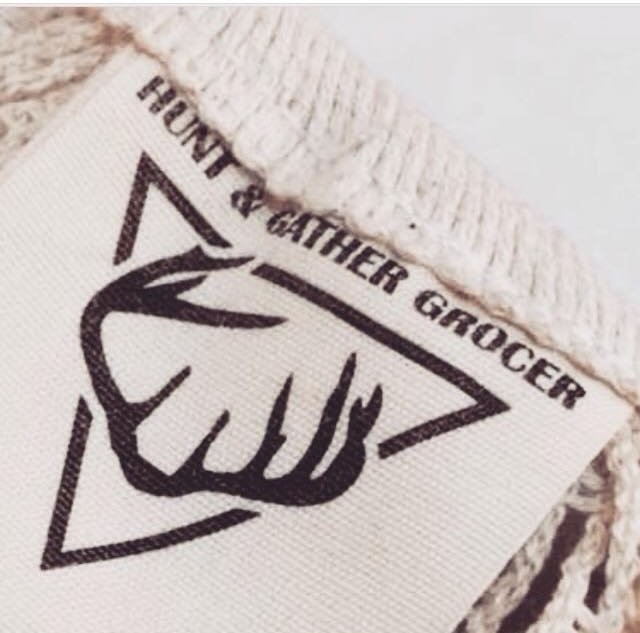 WHY NOT JUST USE THE 'TRAGICALLY UGLY GREEN BAGS' PROVIDED AT THE LOCAL SUPERMARKET
The 'ugly green' bags provided at most supermarkets around Australia are made of polypropylene plastic, an oil-based product. They are not biodegradable.
THE TRAGICALLY UGLY GREEN BAGS + THE CONSUMER =
"Did Someone Call The Fashion Police" "So Not Right Now"
WHAT STYLE IS RECOMMENDED FOR VISITS TO YOUR LOCAL SUPERMARKET
We highly recommend the short handle style, detailed net bags, of Hunt and Gather Grocer.
HOW DO I ORDER WHOLESALE
Please contact us at info@huntandgathergrocer.com.au for all wholesale inquiries.
We try to keep packaging as minimal as possible, which means it's free of individual plastics and wrapping. Our bags are simply folded and slid into a mail box. The mail bag essentially works as a protective sleeve for your bags during shipping, nothing more.